Bow is a residential district in East London. Previously known as Stratford, it has been undergoing a huge urban regeneration in recent years. Because of the cosmopolitan way of living here, the place is often referred to as the heart of East End.
It a home to some stunning Victorian houses and modern apartments. There is also a great selection of pubs and bars. The Morgan Arms is a cosy gastropub, which serves wonderful food. There is no shortage of shopping possibilities as well. Roman Road Market is standing conveniently close to Mile End tube station, surrounded by several local facilities.
Among the local landmarks are Saint Mary's Church, situated on Bow Road and the statue of William Ewart Gladstone. Hackney Marshals are one of the favourite open-air spaces here, hosting several sports facilities. Bow boasts good transport links. There is a Railway station and numerous bus routes serve the area as well.
Keep your home looking pure and clean with regular cleaning done by our professional team!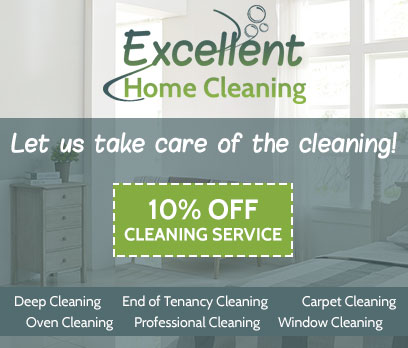 Cleaning prices starting from £14
"When I need to have my home cleaned, I know who I can rely on and that's you! Through all these years you have never disappointed me and have always given me more than perfect and amazing results and my words will never be enough to describe the gratitude I have for this brilliant servicing I get from you every single time. – Charlotte"
Enjoy a house cleaning service with many great advantages
All of our professional cleaners have a positive attitude and they are always punctual
Our company is very detail oriented
We offer our house cleaning service throughout the entire week, including the weekends
For our customers with busy schedules we offer one-off cleaning sessions
Our house cleaning service is one of the most affordable ones in Bow

If you are worried that there is rarely enough time to finish every housekeeping chore, you can try the help of a professional cleaning company. This way you will be able to spare yourself the physical exertion and you will gain more free time to do the things that you like. If you are looking for the best option for a cleaning company in Bow, let us help you make the right choice.
There is no doubt that our company is the only one which can provide the house cleaning service which can take great care of every corner of your house and make it sparkling clean in no time. Call us right now and we will gladly help you with our top-notch professional help. Prepare to be amazed with the cleaning skills of our wonderful cleaners. We are sure that no matter what the cleaning chore that you have prepared for us is, we will present you a spick-and-span house.
If you entrust your home to our care, we can assure you that there won't be a single thing that you will need to worry about. Our cleaners will tackle every dirty spot in your house and they won't leave your home until they make sure that they have erased every trace of dirt and grime. Give us a chance to prove you that our professional help is with the highest quality in Bow.
We hope that you will give us a call whenever you want someone to help you with the housekeeping chores. Our company can guarantee you wonderful results and a budget-friendly fee, so hurry up and contact us right now. We can't wait to demonstrate you our excellent house cleaning service.