Nestled between River Lee and Walthamstow Marshes, Clapton is a home to appealing Victorian houses, attractive restaurants and green spaces. There is plenty to see in this district. From beautiful churches and synagogues to authentic shops.
Plus, it has an unprecedented amount of open-air spaces. It is notable to mention the Springfield park, one of the finest community parks in the capital. In the recent years, Clapton has been under development, which is why a lot of new flats started appearing. The place is a desirable destination for numerous Londoners.
It has excellent transport links, being served by the Railway Services and the London Overground. When it comes to local amenities, there is a Sunday Market on Chatsworth Road and a high street full of shops and cafes. There is also a good choice of decent schools, which appeals to many young families.
Keep your home looking pure and clean with regular cleaning done by our professional team!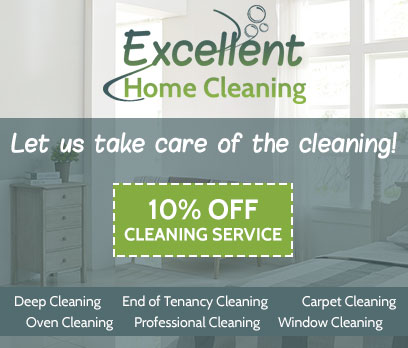 Cleaning prices starting from £14
"Being served by you was honor for me. You definitely didn't make a mistake when choosing to be part of the cleaning sphere. The domestic cleaning you did for me yesterday was so good, that I feel like I want to share my satisfaction with the whole world. You are the one and only cleaning company that exists for me! – Gill"
We are far more than what you expect
We only use professional equipment in our service.
The client does not pay for any of out consumables.
We have our own cleaning products. The client doesn't need to supply us.
We have seen the worst case scenarios and have handled them.

There is nothing like refreshing your home for the season or for some special event. Whatever the reason is, we have your back and can come over to thoroughly clean up your entire home. When you see the final results you will instantly fall in love.
Put your trust in us, because we are a team made up of people who are professionals in the Clapton field. We know all of the ins and out of the house cleaning service, and can carry out a very fine service.
We treat our clients equally. There is no one who gets special service or perform worse for someone who pays the right price. Everyone's house cleaning service is provided equally.
Booking an appointment is made to be really easy. We haven't had a client that would go and ask for help. After this is done, it is our responsibility to arrive at the client's home.
While hiring is easy, the whole service could get a bit confusing, so we explain to every new client how the whole service works from beginning to end and we do not look over any details surrounding the Clapton area.
The client might miss something during the introductions, so it's okay to ask questions, it is even encouraged. It's more important to avoid making mistakes rather than not interrupting.
When all that is done, and the time for the service comes, we arrive at the client's home right on time and don't waste any time before getting to work. So that things can go faster, the client can give us a key to their home so that they don't have to wait around for us every time we come over.