Deptford is a district in south-east London, which for many years was overshadowed by the affluent Greenwich. For a long time it was mainly inhabited with Goldsmith's students and families, however, the active community and urban atmosphere here recently appealed to many Londoners and maybe, therefore, Deptford is already known as "the new Peckham". Today the area offers its residents and citizens a wide range of elegant restaurants, independent shops and cafes, which attract more and more gentry.
Although there is no underground station in Deptford, the place is well connected to all nearby areas. It is served by the National Rail Stations and a number of bus routes. There are many open-air spaces here and the most popular spot for leisure is the Brookmil Park, which consists of a marvellous little lake, many beautiful trees and lovely meadows. It is notable to mention also the Laban Theatre, where Deptford's students perform operas, concerts and other types of performances.
Keep your home looking pure and clean with regular cleaning done by our professional team!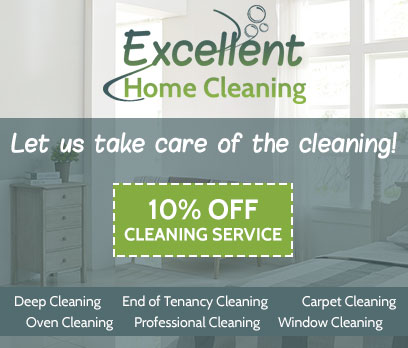 Cleaning prices starting from £14
I simply can't clean, it's not my thing. But when you live in a house, the cleaning is even more. That's why I count on your house cleaning services and my house is always perfect to the smallest detail. Your cleaners are organised and discreet people, who don't need to be poked to work. Thanks a lot! – Ronald
Our House Cleaning Services in Deptford
Well-established provider with great reputation and insured workforce
Avoiding of any hassle and no disturbance to the customer
Treating all type of surface, with no risk of ruining them
Disciplined and diligent cleaning technicians
Respectful and courteous approach
Adjustable appointments in accordance to your convenience
Cut-priced rates and discounts for existing customers

We are a licensed house cleaning agency that has been operating in Deptford for years. We have grown into a number-one cleaning agency in the area with a large number of regular customers who turn to us for help for various reasons and various cleaning jobs.
We take pride in our experience and in our hard work over the years, all of which have now turned us into the well-respected company that we are today. What makes us better than our rivals is that we are always customer-oriented, we strive to be friendly and to quickly achieve the maximum results. We have been cleaning homes for years, we have undertaken and dealt with small and big jobs, we have used and tested various cleaning products and tools. We have seen many sides of our customers and we have remained loyal to our belief that our customers' satisfaction is what matters the most.
What you should expect when booking with our company is professionalism, promptness, efficiency, diligence. Our cleaning teams are background-checked and insured for your peace of mind and for security reasons. Our house cleaning services are available seven days a week at any time for all of Deptford.
Our house cleaning service has been refined over the years and we can assure you that our service will leave your home immaculate and that every nook and cranny will be cleaned. Our teams are trained, they are experts in delivering detailed cleaning of any home. What they will do is cobweb your entire home, dust and polish all surfaces and furniture, they will vacuum carpets and upholstery, they will mop hard floors, wash windows, de-scale the bathroom, disinfect the toilet, they will also sanitise taps, etc.
Our teams are very thorough and will not skip any room or surface. Our teams are trained and can even follow your instructions. Our house cleaning teams are second to none in Deptford and we guarantee you perfect results.
Our company is reliable and is offering you reasonable prices that will fit within your means. Book a house cleaning service with us and take advantage of our economical prices, flexible packages and convenient appointments.