Fulham is an area, located in the west part of London, England. The exact location includes: the River Thames – its north bank, Hammersmith, Chelsea and Kensington, also Barnes and Putney.
The history of this area includes its industrial period (in the 15th century), when things like pottery, paper-making, tapestry-weaving were leading. Later, the automotive and aviation industry, the food production also appeared.
Today, Fulham is best known as the home of two football clubs – Fulham and Chelsea. Of course, football is not the only sporting game in this area, because, for example, the Queen's tennis club is also located there and is famous for its Wimbledon Tennis tournament.
Interesting places to visit in Fulham are Fulham Palace, Fulham Broadway shopping centre, Stamford Bridge, Putney Bridge, Craven Cottage and many, many other places, according to the preferences and the interests of the visitors. Of course, the variety of pubs, restaurants and cafes is more than big.
Keep your home looking pure and clean with regular cleaning done by our professional team!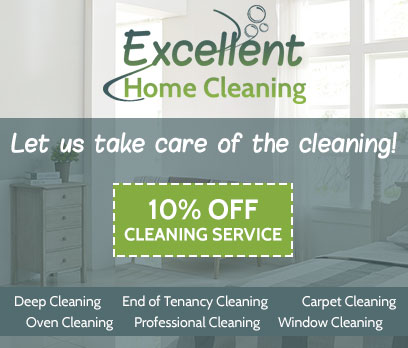 Cleaning prices starting from £14
"I would definitely recommend you to all my friends and neighbours. A great number of cleaning services available, hard-working and friendly staff, excellent customer service representatives – there is nothing more one can ask. And the prices are more than affordable, too. This is more than any other cleaning company would ever offer. – Stanley"
If someone relies on us, we don't let them down
A client has the option of canceling or rescheduling an appointment if needed.
A client has to pay only for the service itself and nothing else.
Most of our teammates have handled the toughest challenges.
The way a client's home looks is irrelevant to our job.
Our team has probably seen the worst already.

Your home has to be always cleaned and maintained. Otherwise it would cause a negative effect on your life. If you have sunken into a state where you can't do anything to clean up your home, then you can rely on our help, we are experts in the Fulham field and we are going to help you out.
Everyone who has relied on our house cleaning services has been left satisfied and happy for choosing us. We have set out to do our job, and we have never veered out of path. We maintain our high standards and professionalism, and we maintain people's homes and lives.
Every home that we visit gets completely transformed before the client's eyes. We make sure that when we do our job, we maintain flow and rhythm, leaving the client impressed and satisfied with the results that are coming along. That is how you do it as a professional in the SW6 field.
The cleaning products that we are using have been very carefully selected from the Fulham market so that they are as effective for their intended purpose, as they are safe for people's health and the environment. In some cases we even use homemade products which are just as effective.
The house cleaning service is provided to every single client with equal quality from beginning to end. Every new client gets introduced to the service by someone from our team as they provide the client with detailed information of how the service works from hiring to completion.
If the client has anything to ask about the house cleaning service, we are open to questions. We want to be sure that all of our clients are properly informed and that no one is confused or paying for something that they don't need.