The London Borough of Hackney is an Inner London Borough, formed in 1965. During the London Olympics in 2012, Hackney was one of the London areas which hosted the event.
In case you are into watching plays, operas or musicals, then Arcola Theatre is just your ticket. Most of the performers are established and emerging individuals who will definitely win your heart thanks to their impressive talents. This building was once a Colourworks paint factory.
Today it has two studio theatre zones and two studios for rehearsals. A lovely cafe-bar can also be found there. There is another theatre located on Mare Street called Hackney Empire where you can see some of the most famous stand-up comedians doing their thing in front of numerous residents and tourists.
Hackney is also well connected to the rest of the neighbourhoods in London.
Keep your home looking pure and clean with regular cleaning done by our professional team!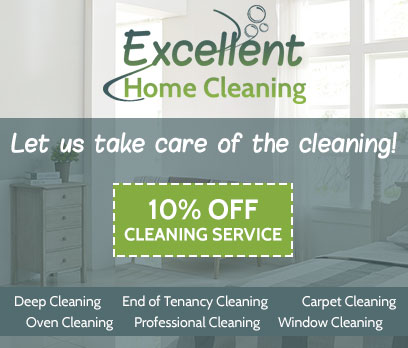 Cleaning prices starting from £14
"Cleaning is very difficult, tiring and long-lasting process when I'm trying to do it on my own, but every single time I'm having my home cleaned by your cleaning experts, they are showing me that it could be easier and faster than I expected. Keep doing your job, because you are doing it great and I will be your customer for a very, very long time. – Tessa"
We always deliver high quality
We are satisfied with our job only when the client is.
The client does not pay for any of our consumables.
The client has control over the service, if they need to, they can reschedule or cancel the service.
A lot of people rely on us to do our job.

A house cleaning service has never been easier to come by and getting your hands on. With a large professional team on our side, we take care of the needs of hundreds of people from all across London.
Our company has quite high standards when it comes to cleaning, so our clients should expect nothing less then the best. We've handled every challenge that has come to us without any problem, we are professionals in the Hackney filed after all.
We make sure that every single client is treated equally. No one pays the right price and gets less then they should, and no one gets special treatment. One client receives the same quality service just like everybody else.
With every new client, the first step is always the introduction. We like to explain to our clients how the house cleaning service works from start to finish. We provide them with the information surrounding the Hackney area that they need to know.
Although we make sure to be clear, it is possible for the client to miss something, so interrupting to ask questions is totally encouraged. This way, we avoid any incidents of the client being confused and especially falling a prey into paying for something that they don't need.
After the introduction is provided, we leave the client to book their appointment. Our job after that is to be ready and make sure to arrive at their home right on time. The client should be at home as well. We need someone to let us in.
When we clean up, we use professional equipment and our own cleaning products which have been tested and are quite effective. Unlike some products from the Hackney market, ours are actually environmentally friendly and healthy.