Hanwell is a town located in the west of London. It is part of the London borough of Ealing. During the 18th century a lot of new houses appeared on the little open land that was left in the city. The area is a home to St Mary's church which was rebuilt three times, as well as other churches- St Mellitus and St Thomas the Apostle, but St Mary's church is considered the most famous of them all.
In 1870 Hanwell officially became an urban district and began its rapid expansion with the arrival of electric trams. Most of the remaining land was filled with terraced and semi-detached houses.
There is an annual carnival event which was originally founded to raise funds for the hospitals and especially one- Cottage Hospital, which is now called Ealing Hospital. The area also has many famous and beautiful parks which attract many visitors.
Keep your home looking pure and clean with regular cleaning done by our professional team!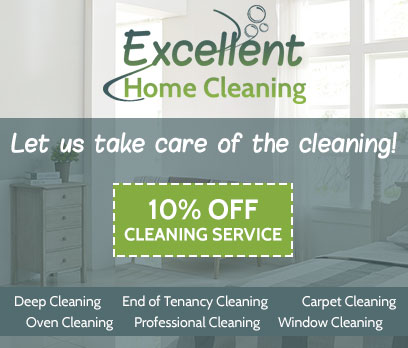 Cleaning prices starting from £14
" I could hardly find words to describe what your help means to me! My brand new sofa was stained with paint and I tried thousands of tricks and methods to remove the spot but it was only getting worse. A friend of my advised me to ask for professional help and that is how I came across you. I don't how you did it but you made the dye vanish in seconds! Thank you for saving my precious piece of furniture! Excellent cleaning services! – Nina"
If you want to have your home cleaned by real professionals, you can trust us!
Let's see why our company is your best option.
Professionalism is guaranteed with us
We will do our best to meet your standards
You will get optimal results in no time
We will take your requirements into consideration
We have affordable prices, which we believe will not be a problem for your budget and are the lowest ones in Hanwell

House cleaning will not be a problem for you anymore if you leave it to us. We are a cleaning company, located in W7 and we have the aim to make every home in this city more than perfectly clean.
We have almost 15 years of experience in the cleaning sphere and through all of them we have managed to make every our customer fully satisfied with the job done, because our results have always been astonishing.
With our services, your home will be not only clean and fresh, but also healthy, which is very important for every person's health. For the achieving of this, we always use eco-friendly and non-toxic products, which are absolutely harmless.
You can use our help anytime, because we are always available and we will be ready to send a cleaning team to your location in a convenient for you date and time. But before that, you will have to tell us in advance what the size of your home is, because according to that, we will know how many of our specialists we should send to you.
In this way the cleaning process will not take much time and after only a couple of hours, the results will be available. Of course, there is no doubt that your home will be detail-cleaned, because every detail is important for us and our cleaning specialists will do their best to defeat every stubborn dirt and to make your home spotless clean.
We cover the entire region of Hanwell, so you can be sure that your location will not be a problem for us. We will be expecting you soon, because we believe that you will find our services helpful.