Hornsey is a part of the London Borough of Haringey, the area is located in the north and has a rich history. It has overcome many economic developments and now enjoys being hunted from many citizens who find the area appealing to lead a normal life. Hornsey has somewhat of an ideal location when it comes to shops and malls, nevertheless the area is quiet and you can definitely feel you are out of reach from the madness in downtown. The area enjoys many old, Victorian-style houses, there is also a pleasant urban green area not far from Priory Part and the east of High Street.
The area also hosts whatever's left of St Mary's Church and has a strong rural past. It's décor changes dramatically depending on which side you are on- between High Street and Muswell Hill you can notice a drastic change of the scenery.
Keep your home looking pure and clean with regular cleaning done by our professional team!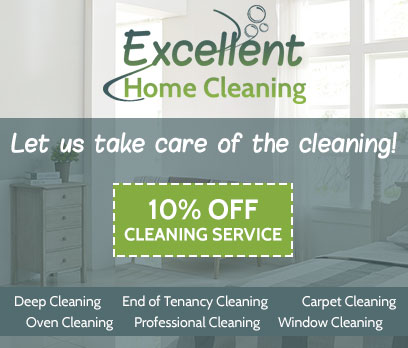 Cleaning prices starting from £14
"It feels great to return to a cosy, neat and perfectly clean home after a long day at work! That's precisely why I use the services of your domestic cleaners. They always get the job done to a professional standard even when I'm away from home. The pricing is very reasonable and I know my home is in good hands. – Carolyn"
Knowledgeable personnel
Working throughout the week
Using ultramodern cleaning tools
Offering customizable cleaning services
Complying with our clients' needs and demands
Using environmentally friendly cleaning products

Who says that you must clean your home by yourself? Aren't you allowed to take a break every now and then? Of course you do. However, don't forget to contact us and book our services when you decide to take a break from cleaning your home. Because the condition in your home is of pivotal importance if you want to be healthy and happy.
Not cleaning your property on a regular basis can implement your health in a number of ways. For example, the pollen that accumulates along with dust on surfaces in your property, fills crevices and hides between fibers of your carpet and the fabric of your upholstery, can trigger allergies and cause the development of asthma, too.
We can keep your home clean and fresh, just call us and book our house cleaning services. We are a professional cleaning company experienced in the field of house cleaning. We have the tools and means to polish your home to perfection. Call us and book our services and we'll make your home shine. Our cleaning company works throughout the week and also on bank holidays, too. Please note that our cleaning company covers Hornsey.
Choose us to clean your home because we can make your home spotless. Choose us because our technicians are able professionals with abundant experience in the field of professional cleaning. What's unique about us is that our professional cleaning company is that we use only environmentally friendly cleaning products. Choose us and no toxic chemical residue will remain on any surface in your home. Our house cleaning services can be booked at your convenience, only in Hornsey. Choose us and you won't regret it.
If you have any questions concerning our cleaning company, you can contact our friendly customer support team.
Contact us and book our house cleaning services, we will make your home shine. Our services can be booked any day of the week, only in Hornsey.