Kilburn is a district in the north-west part of London. It is an area which has a lot to offer. It can be pretty peaceful with its cosy little pubs and cafes but it can also show its visitors a mix of different cuisines, inspired from different parts of the world.
You can enjoy the latest hitmakers of the Hollywood movie industry in the Tricycle theatre. Kilburn is the area where you can enjoy all types of food and the Ariana II is a wonderful Afgan restaurant which offers tasty kebabs and curries.
Another place which shows Kilburn's colourful side is The Sanctuary Cafe which is located in an actual church and it also serves as a post office. Make sure to stop by this cafe and enjoy a cup of coffee or a delicious lunch. If you want to have some drinks stop by the Betsy Smith which is a bar with artsy interior, interesting drinks and tasty food.
Keep your home looking pure and clean with regular cleaning done by our professional team!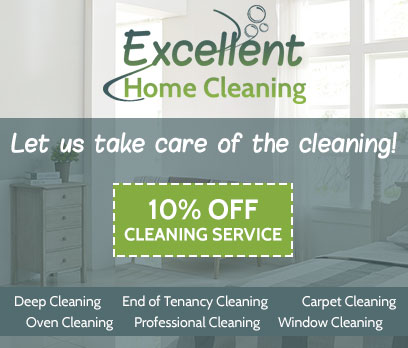 Cleaning prices starting from £14
"Working full time makes it impossible for me to clean regularly, so I am much obliged to your cleaners. I can count on them to get the job done to a high standard even when I'm not around to supervise them. Moreover, they've proved to be reliable and have gained my trust, which is an important aspect of a quality service. – Blanche"
Say no to the tough scrubbing and yes to the sparkling clean house
Our commercial cleaning tools and products have proven to be very efficient when it comes to tackling different types of stains
We are very detail oriented and we pay special attention to our customers' needs
The cleaners who carry out the house cleaning are always polite and punctual
We offer a one-off cleaning session for those who can't hire our regular cleaning service
Our house cleaning service can be hired any day of the week, including the weekends
If your home is your sacred place where you like spending every free moment, then it has to be clean and organized at every moment. This, however, takes a lot of time and efforts and some serious use of elbow grease. If you want to spare yourself the exhaustion, you can always rely on us to provide the best house cleaning service in Kilburn.
We assure you that your home is always in safe hands if you entrust it to our care. All of our cleaners are wonderful people who are well trained to tackle even the biggest mess with ease and provide your home with a picture-worthy look. We are sure that you will be fascinated by our high professionalism and excellence of performance. We can promise you that there is no other company in Kilburn which can fit all your preferences and satisfy your needs the way we can.
One of the biggest advantages of hiring our company is enjoying a top-notch professional help for a very reasonable price. We always offer the most budget-friendly deals in Kilburn and we want to prove our clients that they can enjoy a spotless house or apartment and still pay a small fee for the service.
We encourage you to give us a call anytime when you need our help and we will gladly prove you that we are definitely worth trusting. Our house cleaning service can make any corner of your home shine. Don't miss the wonderful opportunity to enjoy our high-quality professional help. Call us whenever it is most convenient for you.