The hidden pearl in the crown of the south-east part of London is the area of Lee. Deeply hidden next to the Blackheath, the area was the place for rest of the soldiers on their way to the Battle of Waterloo. The suburb has been established as an ancient parish with vast woodlands. Nowadays, the formerly historical hub is turned into a peaceful and welcoming neighbourhood. The suburb, though, keeps in secret that charm, because of the lack of vibrant centre, but probably that's namely the thing, which the locals mostly value.
Here, the community is tightly knitted and the streets sometimes are flocked with friends, who have met each other by accident and enjoy a quick, nice chat. The charm of the area is hidden beneath its surface- rich history, with houses, mainly in Victorian style. A landmark of the area is the Boone's Chapel, which is built in baroque style as an almshouse. Lee is the perfect neighbourhood for those, who feel nostalgia to the rural England and the farming.
Keep your home looking pure and clean with regular cleaning done by our professional team!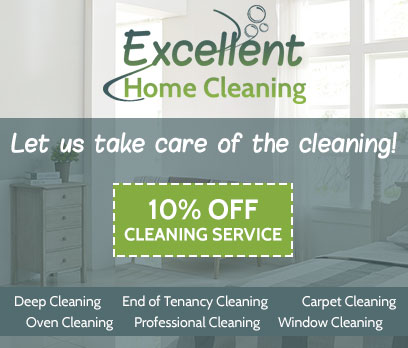 Cleaning prices starting from £14
Working, training and raising kids is not very easily to combine. I needed to compromise with something and that was the conditions of my house. But one colleague recommended me your house cleaning services and I gave it a try. Absolutely perfect results and I will definitely continue to work with you! – Belinda
Our House Cleaning Services in Lee
Our cleaning teams use proven cleaning methods to deal with various cleaning problems
Our teams have been trained by us and have been vetted
Our prices are depending on the service that you get
We are available on a regular basis and we work according to your schedule, we work on weekends and bank holidays

The lack of cleaning support from the all the members of the household often makes you harp over it and this lead to unnecessary disputes. It is highly probable that only you think that everybody should be involved in the cleaning, and you feel like a slaving maid in your own house. Stop this annoying tendency, because you can have sparkling house without spending not even a second in scrubbing. Get advantage of our house cleaning services in Lee and enjoy your time with the beloved ones, instead with the cloth.
Our public image has become the epitome of precision. We have acquired solid reputation, but we always strive to defend it and even improve it. To count on old laurels is not our cup of tea, we always stand firmly behind our success thanks to our hard work and devotion. We understand that every time you hire us, you give us your trust. That's why failure is not an option for us- you anticipate and deserve the best, so we do it. We know no limits in our attempt to please you and that is the reason why our customer database is growing day by day.
We understand that the workforce is the "face" of our company and all of our people represent the core values of our business. That's why we are very careful when we hire new employees. All of our cleaning experts have great personal qualities, so they are the perfect combination of professionalism and personal approach. They are initiative people, who work in a very organised way. In that way we ensure that our house cleaning services are conducted with no disturbance to our customers in Lee.
For the regular sanitation or one-off cleaning of your house, you can fully count on us. The results are just fascinating every time and once you try, you will never think of any other way of cleaning than us. We will send you a team of cleaners, who are prepared to start with the job straight away, skipping the hassle part.
In search of help, we understand that your schedule is probably over-packed. That's why we deliver our house cleaning services 7 days a week in all Lee. The rates are complied with the size of the property and absolutely budget-friendly. Get in touch with our support centre or use our online booking platform to arrange an appointment. We clean, you live in a serene house!