Leytonstone is an area in East London and it is located withing the Borough of Waltham Forest. It has magnetic charm and it can offer a lot of places which are worth visiting. All of the cafes and restaurants in this area have different and exotic vibes which a lot of people find attractive.
If you are a wine fanatic there is the Theatre of Wine in Leytonstone which offers a wide range of wines, beers and different spirits for tasting and purchasing. Do you have a sweet tooth? Then Cafe du Metro is the right place for you. It offers mouthwatering pastries and cakes and a wonderful atmosphere.
If you are hungry make sure to stop by the Little Saigon which is a Vietnamese restaurant with a quirky interior and delicious food. If you want to enjoy traditional Mediterranean dishes, make sure to have a lunch or dinner at The Olive. There are definitely plenty of places to enjoy in Leytonstone.
Keep your home looking pure and clean with regular cleaning done by our professional team!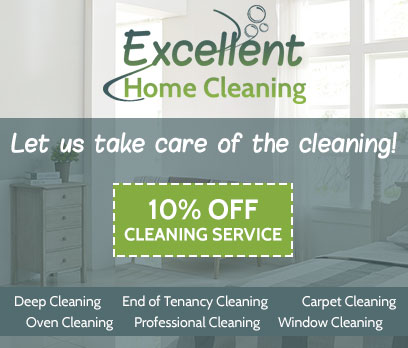 Cleaning prices starting from £14
" The cleaners that this company send me to do my bathroom cleaning were very punctual and professional. They had their own products and tools and really worked hard to clean my bathroom perfectly. I could not thank them enough. Say 'thank you' to your cleaners from me, please. -Kim"
Take advantage of the most professional house cleaning services in Leytonstone
We are professionals willing to lend you an assisting hand
We will deeply clean your entire home, no matter how big it is, or we can do just a specific chore
We are flexible with working hours and dates
All cleaning materials are included in the price

Our company provides incredible house cleaning services for properties in the Leytonstone area. All our house cleaning services are tailored to meet your needs and cover every inch of a premise. We understand that each home is unique in condition, size and type, everybody is at work different hours and everybody has different perceptions of what cleanliness means.
The easiest way to find out more about our house cleaning services is to establish a contact with our call centre and our polite representatives will provide you with the necessary information.
Our house cleaning services are available seven days of the week. Even on holidays! We can come and clean your home in the most efficient and quickest manner possible at a time convenient for you. Most people book our services for a regular weekly cleaning, however, in case you would want us to visit you biweekly or monthly, this does not appear as a problem to us. We work all in accordance with you and your preferences.
The housekeepers who work with us are all professionally trained and ready to amaze you with high quality of performance. They have spent long years in this cleaning industry, having cleaned great number of properties in E11. They work in an organised manner, strictly following the latest standards of cleanliness.
Our housekeepers strive to provide you with a clean, cosy and tidy home environment. For you, turning to our company will be a step towards the right direction to having and enjoying the home of your wildest dreams. We can leave your property sparkling and spotless. Do not procrastinate any more and get in touch with us today and get your free no obligation estimate. We cannot wait to hearing from you.