Mill Hill is a suburb which is located in London, within the Borough of Barnet. It is a quiet and peaceful area which can offer an escape of the nosy and stressful everyday life. You can spend lovely time with your family here and forget about the hustle and bustle of the busy city.
A great place for your kids is the Belmont Children's Farm where your little ones can see everything from chickens to horses and even alpacas. It is definitely a fun way to spend the day. If you want to enjoy an ice-cream or a lunch with your family, you should definitely stop by sunny Hill Cafe.
The Rising Sun is also a good local pub which can offer you a whole-course meal and a cosy atmosphere for you and your friends or family. It is really close to the Saracens rugby stadium where you can watch a game of rugby.
Keep your home looking pure and clean with regular cleaning done by our professional team!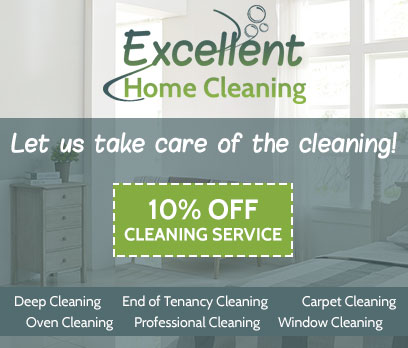 Cleaning prices starting from £14
"Your two cleaners who visit me every week are almost like family members to me. They are very easy to work with and go out of their way to meet my expectations. It's endearing, to say the least. I'm so happy I finally found a cleaning contractor I can truly trust! – Annette"
A comprehensive cleaning package and what else
properly trained and well-mannered cleaning experts
assistance at your preferred time frame in the entire Mill Hill
weekend visits without any additional fee
reliable and at the same time safe cleaning practices and materials
100 per cent customer satisfaction

When their living space is messy, one is subconsciously reminded that the domestic chores need to be done. At our company, we understand that clients have much more important obligations than cleaning and offer them an outside help through personal attention and up to date cleaning methods. We specialise in house cleaning and during our practice managed to earn the trust of hundreds of people in Mill Hill.
Whether it is a one-time visit or house cleaning on regular basis, with us you always receive a reliable cleaning solution at a relatively good price. Unlike other cleaning companies, we listen to your requirements and adapt to your way of working. Rest assured that your home will be cleaned in the proper way by the right experts.
When people book a professional cleaning, they expect hard work and durable cleaning results. It is our first priority to provide you with house cleaning in accordance with your standards and for this reason, everyone in our team has undergone extensive indoor training. The senior members have several years of experience in the cleaning industry and a profound knowledge accordingly.
For customer's peace of mind, our house cleaning package includes regular domestic chores such as eliminating the grease areas in the kitchen, floor sanitation, cleaning the bathroom, dusting, organising the living areas, etc. We understand that you have your own perspective of how your home should be cleaned and invite you to share it with us. If necessary, we will alter the cleaning package.
When you work with our company, you can be confident that your living space will be cleaned in a consistent and proper manner. Our cleaners arrive on time, bring the necessary cleaning arsenal and get to work. Contact us and we will organise your service. With us you are guaranteed to receive a prompt and effective cleaning solution in the entire NW7.