Morden is an area, which is 8 miles away from the centre of London, England. It is located between Merton Park, Wimbledon, Mitcham, Sutton and Worcester Park. The census made in 2011, says that the area's population was 48 233.
As it refers to the name of the area, it most probably comes from the British language, where Mawr means "large" and Dun means "fort" and the second option is "The Town on the Moor".
What the tourists of Morden can see if they decide to visit it? St Lawrence Church – an England parish church; Morden Baptist Church; Morden Hall Park – many large period buildings are located there, just like in another park in the area with a similar name – Morden Park.
The Bait'ul Futuh Mosque is also located in the area and is said to be the largest mosque whithin the boundaries of Western Europe. Exact location – between Morden South railway station and Morden Underground station.
Keep your home looking pure and clean with regular cleaning done by our professional team!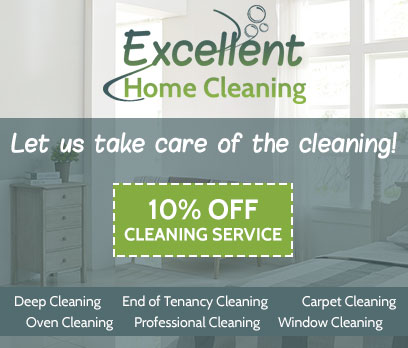 Cleaning prices starting from £14
"I'm using cleaning services for 2 years and for me there's no better way for cleaning your home. This is a miracle, which can happen to everyone if they hire a professional cleaning firm. I can say only positive things about this way of cleaning – fast, easy, cheap and effortless. – Christina"
The advantages of our services, which no other company in Morden has, are:
Big experience in the sphere, because we are in it for more than 15 years
We will meet your expectations to the fullest and will give you the desired results
Our company has the most qualified and skilled professionals
We always rely on expensive, powerful and trustworthy cleaning machines and products
We have affordable prices – they are the lowest ones in SW19, because we don't work for your money, but for your satisfaction

If house cleaning is a problem for you and you are looking for a solution to it, be sure that there is one and this is our cleaning company. You can always rely on us, on the condition that you live in Morden, where we are based.
With our help, your home will have the chance to look like new, to be cleaner, healthier and cozier than ever! If you want to get these results, just get in touch with us and be sure you will have them!
Our specialists will be ready to visit you anytime, because we work every day and we are on a full working time, even on weekends and bank holidays. This allows us being flexible with dates and working hours and serving all our customers on their convenience.
The cleaning team that will be sent to you, will be fully-equipped with the cleaning arsenal needed for the achieving of the perfection in your home. There is no doubt that our cleaners will pay attention to every little detail in your property, because they have one main purpose – to make your home shine like never before.
We assure you that if you leave the house cleaning in our hands, you will see by yourself that this was the most appropriate choice you could have made, because we will do our best to meet your standards and to not let you down.
If you think that our services will be helpful for you, don't waste time and get in touch with us as soon as possible. Our services will be the best present for your home – we guarantee it to you!