In the south-east part of London is situated the trendy area of Penge. It still preserves its community spirit, which you can find in the plenty of restaurants and pubs. The buildings bear mostly Victorian style with predominantly terraced houses. One of the most notable place, which brings also cultural heritage, is the Watermen's Park. The area has been established as a modest, poorly populated area, surrounded by dense woods. Even the name of the area is significant enough for its past, meaning "edge of wood". The district has undergone considerable development with the coming of the railways.
Nowadays, it is well-served by many transport links, which makes it very convenient for its residents. A notable landmark of the area is The Crooked Billet and the oldest Police Station in all London. When it comes to open spaces, Penge has many to offer. Verdant picturesque nature and leafy alleys are part of the enchanting charm of the area. The most notable park in the neighbourhood is Alexandra Recreation, which is the perfect place for a walk on a sunny day. For different sports activities, one of the most preferred places is the Crystal Palace Park, the main sports centre of the area.
Keep your home looking pure and clean with regular cleaning done by our professional team!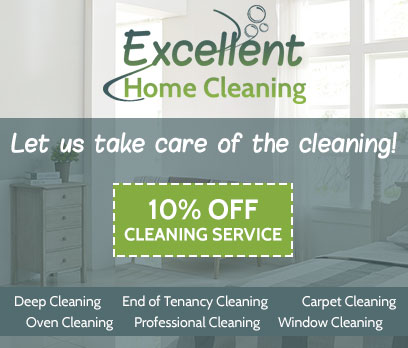 Cleaning prices starting from £14
I'd like to say one great BRAVO to your house cleaning services. Your cleaners were just on time, even though it was Sunday. They were equipped with the cleaning material. The results are just lovely and thorough. My house is spotless and you didn't bother me for anything, even complied with me! – Darla
Cost-effective House Cleaning Services in Penge
We have super affordable rates and packages that are adaptable to home's needs
A team of vetted and highly skilled cleaners will arrive at your doorstep
Our cleaning sessions are scheduled for your convenient time, we work seven days a week and on bank holidays
We guarantee superior house cleaning services and amazing results

If cleaning is not your strong suit and you wish to find a reliable and professional cleaning service that will give you a helping hand you can turn to our agency. We are based in Penge and we deliver cost-effective house cleaning services to people in the area. What is important to know about us is that we have years of cleaning experience and so do our cleaners.
We will send a team of vetted, equipped, hard-working, diligent and qualified cleaners to clean your entire home. And we work seven days a week including bank holidays with no additional fees.
When you book our service you are allowed to give us your special preferences on how to clean your home or which areas and rooms in your home you want us to clean or not clean. We are offering you to book a customised service that meets your home's cleaning needs perfectly.
We are a customer focused agency and we work as hard as we can every time to completely satisfy all of our customers. We have made sure that all of our services and packages are accessible to the people and that we are offering them unique services that will leave them with the results they want.
We are experienced and are second to none in keeping your house clean in Penge. You should put your trust into our company and you will quickly see for yourself that we are incredible at our job.
Every house cleaning entails the following cleaning devoirs vacuuming your carpets and upholstery, washing windows, taking out the trash, degreasing stove tops, dusting and cob webbing your entire home, sweeping and mopping hard floors, etc. Our team will dust and polish all surfaces, they will also disinfect taps, toilet and de-scale the bathtub or shower, change towels and stock toilet paper or soap, wipe down light fittings, skirting boards, etc.
Our teams have equipment and cleaning products that easily cut through soil and grime and help achieve the best results in minimum downtime.
Book our house cleaning service and you will have to pay a very affordable price and you will receive a thorough cleaning and sanitising of your home.