Roehampton is a district in the southwest part of London and it is located within the Borough of Wandsworth. It is an area which attracts a lot of people. Roehampton's historic village is protected as a conservation area.
The Richmond Park is very close to the area and it is known as the biggest park of London's Royal Parks. The Richmond Park's golf courses are wonderful place for entrainment and you can also grab a cup of coffee and have a tasty lunch with your friends or family there. Another place where you can enjoy an espresso coffee or a lunch meal is the Artisan cafe.
If you are in the mood of terriaki or sushi, Midori Sushi is the right restaurant for you to visit. The chef prepares the food right in front of the customers. When you are hungry Kerbisher & Malt is the place which can serve the best fish and chips in the area.
Keep your home looking pure and clean with regular cleaning done by our professional team!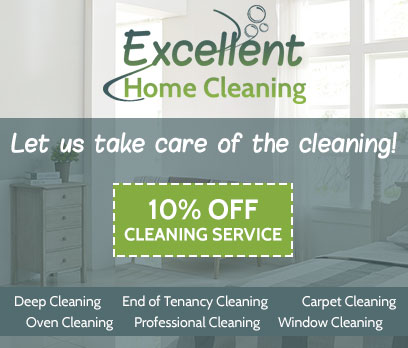 Cleaning prices starting from £14
"I will probably book another one of your cleaning services soon after I got my carpets and upholstery cleaned by your operatives. I must say that these people are true professionals, considering their attitude and attentiveness. Thank you for everything, your services rock! I wish you all the best! – Bradley"
Enjoy a picture-worthy look for your home anytime
Our deals are always the most budget-friendly ones in Roehampton
All of our cleaners are amazing people who are true professionals
The commercial cleaning tools and solutions which we use are always of a high quality
We offer one-off cleaning sessions which are suitable for customers who can't hire our regular cleaning service
We can completely transform your home in an instant

If your home is the place where you eagerly go back to after the long day at work, then your house or apartment should always look cosy and tidy. However, if you are like most people who live in Roehampton, then your everyday life is probably draining even the last drop of energy out of you. This is why we understand why you might avoid doing the housekeeping regularly. But there is a way to enjoy a wonderful look for your home at any time.
Give us a call anytime you want some extra pair of hands to help you around with the house cleaning. We are a wonderful cleaning company with a lot of experience in the cleaning business and we always know how to achieve the best look for any house or apartment. If you decide to trust us, we can assure you that we won't let you down.
Don't miss the opportunity to enjoy the house cleaning service carried out by the best cleaners in entire SW15. We promise you that whether you need a simple cleaning of a single room, or you want help with the maintenance of the order in your entire home, you can always rely on us. We can always perform the best house cleaning service for you.
We always work hard to provide the best results and satisfy the needs of our customers. We encourage you to share your preferences with us and tell us where do you want us to start with the cleaning and we will give you the home of your dreams. Just to be as helpful as possible, we provide our service throughout the entire week, including the weekends.