Tucked in the wooded hills south of London is the area of Sydenham. Back in the days, the area was settled like a modest village with only a couple of cottages. Locals grazed their cattle in the verdant woodland and lived typical countryside life. The revival of the area was marked with the discovering of springs of water with medical benefits for the health, now known as Wells Park. After the moving of the Crystal Palace and the coming of the railways, the area has started to thrive even more. Nowadays, it is an important suburb, which is full of verdant places and romantic houses, which brings the Victorian style.
Besides the Wells Park, one of the most favourite place among the locals for is the leafy Mayow Park. The suburb offers also a great commercial zone, where you can find all type of shops and stalls. Geographically, Sydenham is divided into three main parts, which has a great number of Conservation areas. The area is rich in cultural heritage and one of the most interesting is the Drinking fountain, built in a baroque style to honour the Jubilee of Queen Victoria.
Keep your home looking pure and clean with regular cleaning done by our professional team!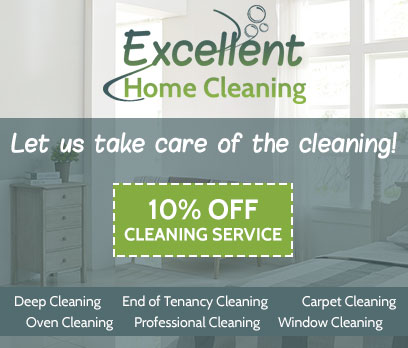 Cleaning prices starting from £14
Thanks a lot for the quick response. I booked your house cleaning services very easily, your cleaning team arrived just on time. They worked really hard and even asked me if I'm happy with the results. The truth is that I am just in awe with the results. You really helped me with the after party cleaning! – Nolan
Remarkable house cleaning services in Sydenham
Our price system is convenient and reasonable – it depends on the service that you get
Our packages are adjustable, we can follow your specific instructions
Our services are available seven days a week and during bank holidays
Our house cleaning specialists are the best

The truth is that when you start to clean, you are not looking for quality, but just to get the job done as fast as possible, so that you are able to move on more pleasant activities. Rushing to finish the loathed cleaning job, you always overlook some spots and at last nothing is done in the way you would like it. That's why we versed our knowledge in house cleaning services, which serve the needs of the residents in Sydenham.
We are involved in the cleaning trade long enough to stand firmly behind our solid reputation. Our services accommodate all the leading standards for the trade and thus, we are recognised as the best choice. We have incorporated professional approach, without taking away the personal touch. Your opinion is at first position with us and we do everything to keep your satisfaction intact at every level.
The workforce is more than important for the qualitative results. That's why we collaborate with strict and organised people, who are very picky when it comes to their job. They waste no time in lingering and invest all of their power to please you. Thanks to their systematic work, there is no chance that even a single cranny will be overlooked. We are the perfect match for the most demanding customers, because we put up only with excellence.
The desire for work is not enough, when the instruments are poor. That's why we have invested heavily in equipment, which is of high quality. We utilise the most powerful cleaning agents, which are 100 per cent organic, with no reverse influence on your health.
We lay our cards on the table, so that we hide nothing beneath the surface. There is no chance of possible pitfalls or unpleasant "surprises", since all of our cleaning techs are fully insured and vetted. Your home will be specially taken care of and your needs- complied with. Make your guests enviable of your wonderful house with our help.
For further inquiries, get in touch with our call centre. Our kind representatives will adjust our house cleaning services in Sydenham in accordance with your needs and schedule. You can have us every day from Monday to Sunday, without being charged extra for weekends and bank holidays. Unlike our quality, our rates are not sky-high. We are only a phone call away from you!