Wimbledon is an area in the southwest part of London and is 7.1 miles away from the centre of the city. It has a population of 68 187, according to a census made in 2011.
A lot of things can and should be seen in Wimbledon, so here is a short list saying which are the first places to visit when you go there. Let's start with the fact that Wimbledon is the place where the oldest and most prestigious tennis tournament is held.
If you are a tennis lover, you also have the chance to see and learn a lot for this sport from The Wimbledon Museum, but if you are not into sports, you can go to The Polka Theatre or to The New Wimbledon Theatre.
Hicks Gallery is the place where you can see a lot of interesting modern and traditional drawings and oil paintings.
Keep your home looking pure and clean with regular cleaning done by our professional team!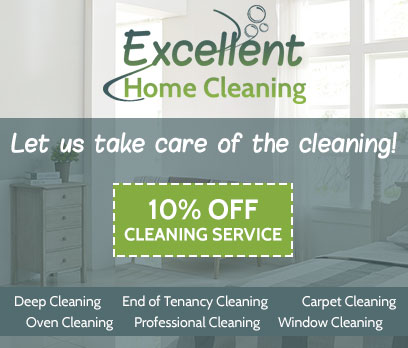 Cleaning prices starting from £14
"Some kind of magic happened to my house today! I have never used cleaning services before and actually today is my luckiest day, but I'm also kind of sad, because until now I used to do the cleaning on my own and it was so hard for me to deal with it. I should have known about these services earlier. – Terry"
Which are the benefits from our services?
You will leave the dirty work to the best cleaners in Wimbledon, instead of doing it on your own
Your home will be cleaned according to the highest standards
We will take care of every little detail, because we want to give you perfect results
We will do our best to clean your home as fast and efficient as possible
We have competitive and fair prices

House cleaning will not be a problem for you anymore if you choose to trust our cleaning company. We are located in Wimbledon and we would be glad to help as much people as possible and to solve the cleaning problems that they have for one reason or another.
We will make your home look in a completely different way, because we have the best cleaning experts and we invest in powerful and reliable equipment. This is what makes the perfect and unstoppable combination, which will fight every stubborn dirt in your home and will make it 100% spotless clean.
Also, have in mind the fact that we will be ready to serve you on your convenience and this is so, because we are available 7 days a week and we have a flexible schedule. So, if you choose to leave the house cleaning to our company, be sure that we will be ready to help you anytime.
But for the aim, you will first have to get in touch with us and you can either call us or write us an email. We will ask you for the size of your property, so we could know how many of our specialists we should send to your location (we cover the entire region of Wimbledon).
We would also like to know if you have any requirements, because if we know them in advance, we will have a bigger chance to give you impeccable results and to meet your expectations to the fullest.
It will be pleasure for us if you trust us and we would be glad to help you with the house cleaning, so don't waste time and contact us soon!